Discover new places and explore Vienna and its stunning surroundings. We have prepared a list of the best day trips from Vienna, which are easily accessible either by bus or by car.
1. Spa City Baden
2. Laxenburg Castle Park
3. Klosterneuburg City & Monastery
4. Aggstein Castle
5. Trip to Roman City of Carnuntum
6. Dürnstein Village & Castle
7. Spitz an der Donau Day Trip
8. Podersdorf Day Trip
9. Krems Day Trip
10. Castle Oberkapfenberg
If you'd like to take a break from the hustle of Vienna and enjoy a relaxed day in the company of your loved ones, Baden is the right place to go. This historical spa city is a great way how to spend your day strolling through the streets of a beautiful, historical city but still enjoying the imperial flair of Austria. If you're interested in hiking and being outdoors, the Badener Rosarium, or Kurpark might be the right choice for you. But if you'd like to relax, there's a thermal spa which offers a great selection of wellness procedures such as massages, saunas, and others. All of it is definitely worth seeing and trying.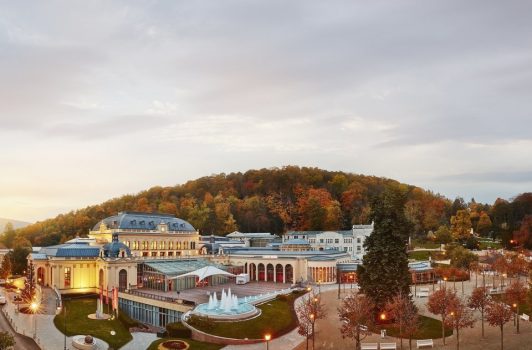 The castle park is situated approximately 40-minute bus ride away from Vienna and is considered to be Austria's largest landscaped gardens. A place where you can take your children, family, friends or even your pets. Plenty of activities to do are available all years round. Have a look at the multitude of monuments and picturesque garden areas, take a boat ride on the lake, rent a water bicycle or scooter or have a picnic on one of the numerous picnic tables spread around the area. All of that can be done on the grounds of "Schlosspark Laxenburg"
If you'd like to spend some time exploring the sights of Austria, Klosterneuburg is one of those places where you can do so. This city is probably most known for its Gothic chapel and Saint Leopold's tomb, where you can see the skull of Saint Leopold – the founder of the monastery – which has been built in the Middle Ages. In the late 19th century, a part of the monastery has been rebuilt to fit the neo-gothic style popular at that time. The exhibition of crown jewels and tombs under the monastery is a must for every visitor. For those interested in wine, the wine estate and orchard which are also a part of the monastery can be included in your tour as well.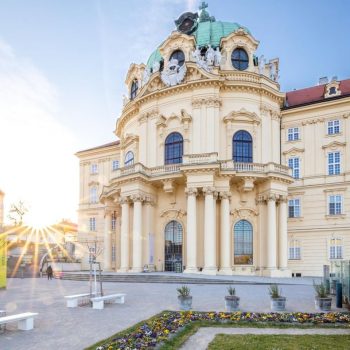 Aggstein castle has been built on the 300-meter-high hill near the shore of the Danube and is known to be home to the Pirates who have plundered the waters of the Danube in the past. The castle has its own tavern and café where you can take a little break from exploring or wait while your children are running around the premises of this interesting landmark on a hunt for the pirate's treasure hidden there.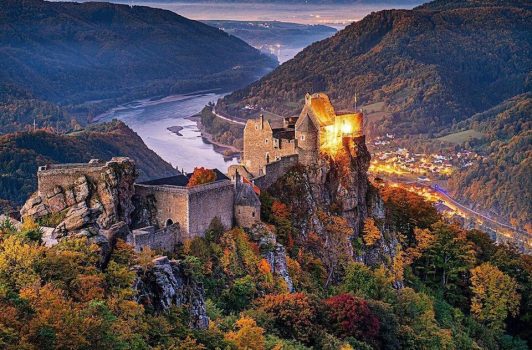 The whole archaeological park extends on the area of approx. 10 square kilometers and holds the remnants of the city as well as the legionary headquarters. A part of the exhibition available to visitors is reconstructed buildings of Roman legionaries, merchants as well as ordinary people. And if you're interested, you can check out the famous Roman bathhouse as well. The city is easily accessible either by car or train and offers plenty of activities not only for adults but also for children, such as "Carnuntum with kids", an event where your children will have a chance to experience the authentic daily life of Roman citizens in a fun and interactive way.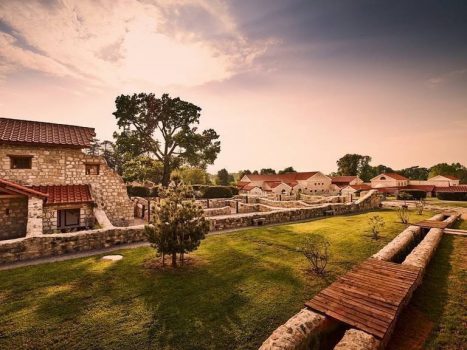 For those who like history and architecture, there is a beautiful Abbey rebuilt in baroque style in the early 18th century situated around 80 km away from Vienna in the village called Dürnstein. The ruins of the medieval castle situated on a hill above the village, plenty of boat rides where you can enjoy great wine and traditional Austrian food as well as plenty of wine cellars and tavern are definitely the things significant to the Wachau region where this beautiful village is situated.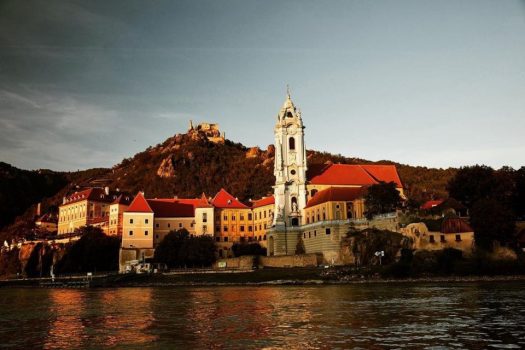 Another beautiful and idyllic town situated in the wine-growing area is Spitz and der Donau. It is a perfect place for you to visit if you like spending your time surrounded by nature, tasting some wine and exploring the vineyards and streets of this little town on the shore of the Danube. So, do not hesitate and hop into your car (or train) to get to this enchanting little village 90 km away from Vienna and experience the authentic wine-growing atmosphere.
If you'd like to get out of Vienna and enjoy some time lounging on the shore of the lake, you will certainly like our suggestion. Sun, beach, restaurants, the famous red and white lighthouse, beautiful view for a great Instagram photo 
 and a good atmosphere. All of that can be found at the shore of Neusiedler See in Podersdorf am See. The city is accessible by a direct train line from Vienna Hauptbahnhof.
Krems an der Donau. A beautiful city is known for its Danube Festival, wine, culture and annual apricot festival. Hiking trails in nature, a remarkable art scene for all art lovers and, of course, a number of high-end and one-of-a-kind wine taverns offering the best local and international vintages to its visitors. All that can be seen in Krems an der Donau. And for those who would like to experience something unusual, the Krems Museum of Caricatures is definitely worth seeing as well.
What better place to take your children to if not a medieval castle. Castle Oberkapfenberg is one of those where you can experience the medieval atmosphere while perusing the halls and having a look at the exhibition dating to the year 1173. A year when the castle was first mentioned in documents. The castle also offers special aerial shows of falcons which is one of the main attractions of this medieval place.
Photo by @Marek Ševc
Lighthouse in Podersdorf am See
Discover with us the best tips on THINGS TO DO IN VIENNA.
---