Things to do in Vienna this weekend Vienna, Rakúsko
22.01.2020 - 26.01.2020
👋🏻 The weekend is almost here and you still don´t know what´s going on in Vienna? Don´t worry, we´ve got you covered. 🛍Kunsthalle Wien Flea Market🛍 Kunsthalle Wien will be clearing out its shop and storage space this Saturday. Eagle merchandise, stationery, t-shirts, sweaters, bags, notepads, cups, books…...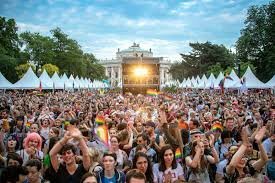 Vienna Festivals Vienna, Rakúsko
12.01.2020 - 31.12.2020
✋A new year has come and it will be surely filled with many events and festivals that you shouldn't miss. That is why we have prepared a list of the best festivals taking place in Vienna in 2020. 🍣Asia Street Food Festival🍣 This year the cuisine of various Asian countries will grace our city of Vienna with its presence...