The most romantic holiday of the year is approaching, so we've put together some tips on where to take your significant other on a date….Musical performances, good food or even a movie, we're sure some of our events are guaranteed to please both you and your date. Celebrate this Valentine's Day the way it should be celebrated and enjoy an unforgettable moment at one of these events.
1. Wine Cellars Pezinok 2023
2. Valentine's Day at the castle
3. VALENTINE'S RED CAT ROMANTIQUE
4. BEATLES VALENTINE
5. Szidi Tobias & Band concert
6. Pančlajn
7. Whiskey Valentine in Kulturak
8. Valentine in the clouds in UFO
9. Street Food Carnival
10. Best Animated Short Films
If you are a wine lover and would like to experience something authentically unique, we have a tip for you. How about a wine tour through Pezinok. Come and see the 15th edition of the Pezin wine cellars and taste unique and delicious types of wine directly from the cellars of the Association of Pezin wine growers and winemakers. This event is perfect for couples who would like to celebrate Valentine's Day together, in the romantic setting of vineyards and good wine. Therefore, do not hesitate, and be sure to stop by the Pezinské wine cellars this Saturday, February 11.
Are you looking forward to Valentine's Day this year, but still don't know what to surprise your other half with? Don't worry, as always, a unique event is prepared for you at Šimák Castle this holiday. An exclusive romantic stay for two people with wellness and a rich romantic dinner in the Pálffy restaurant. Spend this holiday with your partner and enjoy the romantic atmosphere of Šimák Castle in Pezinok. What could be better than celebrating the lovers' holiday in a castle!
Do you like cabaret? Music and dance performances? Are you an adult and still wondering where you would go for Valentine's Day? If we hit at least one of these possibilities, RED CAT Cabaret is right for you. This Saturday, you'll be able to enjoy their unique, lovey-dovey, and gently ticklish burlesque performance in celebration of the upcoming holiday of love and all lovers. Celebrate Valentine's Day in all its (in)honesty and have fun at Red Cat Cabaret for their spectacular Valentine's Day burlesque show.
This Valentine's Day, we haven't forgotten the Beatles fans and fans of the British rock music scene. The iconic band captivated millions of people. On Sunday, February 12, a concert of the Beatles revival band called The Backwards will take place at DK Ružinov. The winners of the 1998 and 2003 New York Beatlefest certainly have a lot to offer. Delight your musical senses and come enjoy their concert this weekend. Of course, don't forget to invite your better half…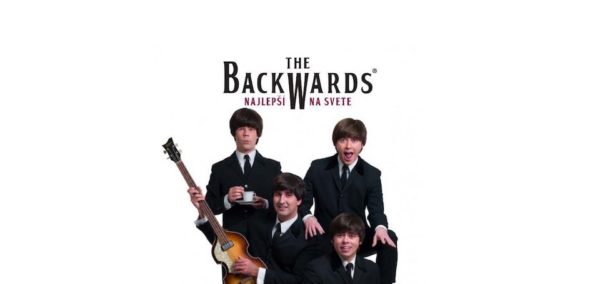 Another musical performance to look forward to, perhaps from a slightly different musical perspective, is a concert by the well-known Slovak actress and singer Szidi Tobias. The whole concert will be a celebration of love and Szidi will once again enchant the audience with her unique voice and beautiful songs. The concert will take place at the V-Club on SNP Square and you definitely don't want to miss it. Take your love to this concert and experience together an unforgettable evening full of music, unique lyrics and love.
If you are not a big romantic, you just broke up with someone or you would like to escape the Valentine's Day depression and have a lot of fun, we have the audience favourite stand-up show Pančlajn for you. Laughter is the cure for all broken hearts and bad moods, so the V-Club invites you to another stand-up comedy show where comedians such as Jakub Zitron Ťapák, Joe Trendy, Michael Szatmary, Diana Rennerová and others will be "competing" for your applause. Raunchy jokes and cheeky banter are guaranteed to put a smile on your face and delight your post-Valentine's Day soul.
Real rock´n´roll fun awaits you this Friday at the Kulturak club on Štefánikova Street in Bratislava. If you would like to have fun and move your cold-sore body to the rhythm of rough glam rock and shock rock, you are welcome to join us at the Whiskey Valentine party. Bands like Alice Cooper Research Band, Friday Whiskey and the band Parquet Lion will entertain you all night long. Come and enjoy an atmosphere charged with the energy of rock and roll on Valentine's Day. Already this Friday at Whiskey Valentine in Bratislava.
One of the most popular places in Bratislava, with a beautiful and romantic view and delicious cuisine, invites you to enjoy a unique interplay of flavors, aromas, and colors during the most romantic day of the year. Come and confess your love on the observation deck and enjoy the view of Bratislava from above. There will also be a delicious multi-course dinner during which you will enjoy delicacies such as halibut with beurre blanc, roast duck with foie gras, homemade yogurt ice cream, or espresso sorbet.
Another tip for our foodies for a Valentine's date is definitely the carnival celebration in the centre of Petržalka. From February 10, you will have the opportunity to enjoy a festival full of aromas and flavours in the Petržalka Market Hall. You can look forward to a variety of meaty dishes that are typical for the carnival season, as well as cakes, pancakes and other delicacies. Of course, there will also be a wide range of beer on offer. Take your better half to the Street Food Carnival Festival in the Petržalka Market Hall and enjoy your time together.
For the 8th time, Anishort Festival will present a selection of the best short animated films from around the world. This animation film festival will showcase the best of techniques, approaches and treatments of individual 5-minute films. The festival will take place on Wednesday, February 15 and is the perfect place to take your film-loving partner. What better way to spend time on Valentine's Day than snuggling up together in the cinema at the Anishort Animation Short Film Festival.
Find all tips for the best THINGS TO DO IN BRATISLAVA.
---