Top things to do in Bratislava in April 2023. Eventland brings you the best that Bratislava has to offer in April – beer festival, food markets, concerts, festivals, flea markets, cabaret, exhibitions, lectures and much more… Enjoy!
1. Eros Ramazzotti Bratislava
2. Craft Beer Festival
3. TRIDENT FESTIVAL Bratislava
4. Social Hike Hainburg Wetlands
5. Open Cellars LIMBACH 2023
6. QUEEN show, tribute to a legend
7. Bratislava Marathon 2023
8. Vegan Feast
9. New exhibitions in Danubiana
10. Magic in Slovakia
11. Bratislava Motor Show 2023
Music lovers have a lot to look forward to this month. One of the most famous Italian singers Eros Ramazzotti will visit Bratislava on 15 April. On the occasion of his tour, he will present not only his latest songs, but also old hits that you all know well, such as Cose Della Vita, Adesso Tu or Una Terra Promessa. Don't hesitate and don't miss Eros Ramazzotti's latest tour -Battito Infinito.
From 19 to 21 April you can look forward to an event in the Old Market Hall called the Beer Salon. If you like to enjoy good beer in good company, this beer festival is not to be missed. In addition to beer tasting, you can expect a packed accompanying programme and the opportunity to learn something new about beer directly from the producers of this delicious drink. Special guests, excellent beers and a great atmosphere. You will find it all at this year's Beer Salon in the Old Market Hall.
The month of April will be in the style of drum&bass. This time the organizers have prepared an exclusive show for you. Two stages, where you will be able to enjoy music from English producer WILKINSON, DRUMTACH crew, but also many other Czech and Slovak musicians. There are also interesting visualizations, special effects and decorations that will complete the overall atmosphere of the Trident festival, which will take place on April 21 at the Refinery Gallery.
For nature lovers and hiking enthusiasts, we prepared a hike through the Hainburg Wetlands in April. This absolutely breathtaking route through the Donau Auen National Park takes you from Hainburg (Austria) to Wolfsthal along the Danube. Wetlands, breathtaking river views, medieval castles and even passable caves in the rocks await you. After a stay in the fresh air, we invite you to have dinner at a nearby restaurant, which is known for its delicious local and international dishes.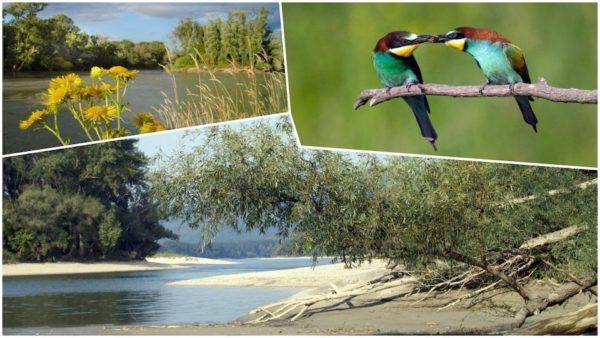 On 15 April, on the occasion of the 16th year of the Limbach Wine Competition, the Open Cellar Day will take place in Limbach. All wine lovers are cordially invited to this unique event with the opportunity to taste and buy wines directly from selected winemakers. There will also be traditional gastronomic specialties, handmade products, a presentation of the SILVAN collection and an exhibition of paintings by the Tajnička Gallery. The event is held under the auspices of the Limbaš Wine Growers and Winemakers Association.
Do you like shows, music and dance performances? We have one for you in honor of the famous singer Freddie Mercury and the band Queen. Come and listen to the classics of this cult British band performed by artists from the Czech Republic and Slovakia. Expect original arrangements of Queen's greatest hits, spectacular choreography performed by young musical dancers and, of course, a captivating Lightshow with spectacular stage visuals, complete with footage from QUEEN's live performances.
April is here again and with it the popular Bratislava sporting event ČSOB Bratislava Marathon. Whether you are small or big, this sporting event is suitable for everyone, regardless of whether you are active in sports or not. There is a run for your children and a classic 42-kilometer marathon as well as a run for seniors. Everyone is welcome to join in and welcome spring with excercise. You can look forward not only to running through the streets of Bratislava but also to the many other runners who will visit us from more than 50 countries around the world on this occasion.
We have prepared something for vegan food enthusiasts as well. Already on 23 April, an event called Vegan Feast will take place in the Old Market Hall. You can be sure that you will find the most delicious, sustainable and environmentally friendly food at this place. Of course, there will also be vegan cosmetics, various lectures, workshops and a traditional vegan cooking show. Definitely a programme that you will enjoy to the full.
One of the events you shouldn't miss this month is the new exhibition of Maria Švarbová at Danubiana Meulensteen Art Museum. This photographer is known for her work, which critics say combines aesthetic brutalism with the fragility of the human figure. Her works are admired and appreciated not only in Slovakia but also in the USA, Mexico and even in South Asia. Therefore, do not hesitate to visit the exhibition of this uniquely exceptional photographer this month at Danubiana museum.
The National Centre invites you to an event entitled "Magic as a part of the traditional spiritual culture of Slovakia". The evening will be guided by historian and ethnologist Katarína Nádaská, who will introduce you to Slavic customs, magic in folk healing, talk about magical acts that have accompanied people throughout their lives and many other things related to magic and its practice in Slovakia. Do not miss this unique lecture, uncover the secrets of rituals and discover the essence of magic, already this month in the V-club in Bratislava.
The long-awaited Bratislava Motor Show is here! This month, the Incheba Expo Arena will host the Autosalon Bratislava 2023 car show. You can look forward not only to news from the world of the automotive industry but also to the latest technologies and unique designs. From small models of city cars to off-road, SUV, sports and luxury cars in special exhibitions, you will find it all from 20 to 23 April in the Incheba Expo Arena. Not only test drives, a children's car show and a street food zone await you, but even free make-up for all the ladies who decide to come to Incheba.
Photo: @gretatravelz
Find all tips for the best THINGS TO DO IN BRATISLAVA.
---