Find out what's happening in Vienna this November. The best and most interesting events happening all over Vienna in November. Food festivals, kids activities, fairs, clothing pop-ups and much more.
1. Vegan Planet Vienna
2. Fesch´markt Vienna
3. Craft Bier Fest Vienna
4. Blue Bird Festival Vienna
5. Book Festival Vienna
6. BeThrifty Vintage Pop up
7. Art&Antique Hofburg Vienna
8. Children´s Filmfestival
9. Green World Tour
10. Vienna Art Week
In November, a special event will take place at the MAK (Museum of Applied Arts) in Vienna. If you are interested in a vegan and sustainable lifestyle, this event is the right choice for you. During this two-day plant-based lifestyle fair, you will have the opportunity to celebrate all things vegan. Delicious and sustainable snacks, sweets, street food and drinks, natural cosmetics and clothing from sustainable sources. You can enjoy all of this at MAK on November 19 and 20. Be sure to check out the program!
Book yourself a spot in your schedule, because another edition of the beloved Fesch´markt is coming back to Vienna. On November 11 – 14, the Ottakringer Brewery will host this special festival designated to food, design and lifestyle. You can expect to see and maybe even purchase products from small start-ups and small producers in the field of art and design, fashion, cosmetics, vintage furniture, jewellery and plenty more. Food, drinks and a plethora of workshops have been prepared as well. More than 250 stands with plenty of interesting things to buy.
The Craft Beer Festival Vienna has returned! This year, the MARX HALLE will be transformed into a beer heaven on earth! You can expect excellent Austrian and international breweries paired with selected street food over the course of two days from November 18th to November 149th. Celebrate sophisticated beer culture with the best producers, taste around 400 craft beer creations and exchange ideas with the brewers in a relaxed atmosphere. A stage program and delicious food are also provided.
Porgy & Bess, the famous Viennese jazz club, cordially invites you to the Blue Bird music festival on the last weekend of November. As we all know, nothing can replace the magical feeling of a live show. With numerous musicians from all over the world, this event is a great way to enjoy jazz music and discover new musicians. This year's program includes artists such as Jens Lekman (SE), Clara Mann (GB), Julie Odel (US), Mick Flannery (IE) and many others. Don't hesitate and get your tickets, which are already on sale through the official website of the Porgy and Bess.
Your favorite book festival is coming to Vienna. From November 23 to 27, hundreds of exciting and thrilling events will take place at various venues in Vienna as part of the international book festival BUCH WIEN. Stage talks, discussions, readings by numerous local and international authors and lectures will make the heart of every bookworm beat faster. So don't wait and secure a ticket for this festival, a unique place of inspiration and exchange in the Viennese cultural scene.

BeThrifty Vintage Pop-Up Store will be back in Vienna to provide chic, trendy, and stylish fashion pieces for you to buy and take home. This time in Vienna Student Hotel. Plenty of known and high-end brands will be offered at great prices throughout the weekend. Doesn´t matter if you are looking for a new pair of jeans, shirts, dresses or even shoes, we can guarantee that you will find it at this BeThrifty Pop-Up Store. The event will be taking place on Saturday and Sunday, the last weekend of November!
From November 10 to 14, the Hofburg will be transformed into a fair for art, antiques and design. Numerous galleries and art dealers from home and abroad will exhibit their special works of art and antiques, which you can admire or even buy. In the offer you will find modern and contemporary art, paintings, furniture, jewelry, silverware, porcelain, folk art and many other art styles. All this sold at reasonable prices.
Starting November 12, the Children's Film Festival will take place at Vienna's Cine Center, Cinemagic and Votiv Kino cinemas. With colorful and varied content, this festival returns to the big screen to entertain your children. Numerous contributions from not only European countries have been selected to meet the diverse tastes of our little film fans. The genre of the selected films ranges from animated films to adventure and coming-of-age stories. Your children definitely have something to look forward to!
On November 12 and 13, a two-day innovative fair will take place at the West Trading Place No. 2. Many interesting booths on the topics of vegan lifestyle, sustainability and renewable energy will inform you about new trends, hacks and insightful tips for a better life. At the Green World Tour in Vienna, you can expect more than 1000 offers and 50 lectures that will give you an insight into the plant-based lifestyle. Stop by and learn about the different ways to protect our planet and make your life easier and healthier.
This November, Vienna hosts the annual Vienna Art Week to highlight Vienna as a vibrant art metropolis full of diversity and complexity. The festival, which is already taking place for the 18th time, provides insights into Viennese art production with all its peculiarities. With free admission, a diverse range of events is available to all visitors. This year's edition is themed CHALLENGING ORDERS, where you will have the opportunity to see various works challenging or criticising cultural and societal norms in the form of art.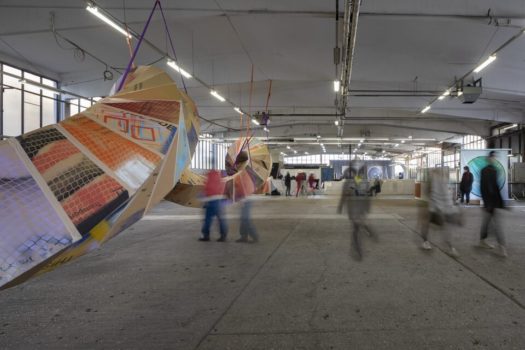 Photo Vienna near Krieau Metro Station by @ihab.982
Find all tips for the best THINGS TO DO IN VIENNA.
---