Top things to do in Bratislava in September. Discover with us the best events in Bratislava, activities for kids, concerts, festivals and much more..
1. White Night 2023
2. Street Food Park
3. BHS
4. Chico & The Gypsies
5. Pottery painting/ workshops
6. Cocktail Festival
7. Lucia Popp Tribute Bratislava
8. Good Market Bratislava
9. Smejko and Tanculienka
10. Fragile Queen concert
On the last weekend in September (29 September to 1 October 2023) Bratislava will once again be lit up by contemporary art. For three days, the architecture of the city will be enlivened by the works of well-known Slovak and foreign artists. You will discover interesting urban places in the public space, as well as well-known or lesser-known interiors. Most of the works will be open during the whole weekend, but you will also find time-limited exceptions. The interior works will be charged with a BN PASS festival pass (price 15 Euros). White Night is part of the prestigious international art network, which introduces contemporary art forms as well as unusual, unknown and significant places of European capitals to the general public.
September Street Food Park is coming up! Stop by the square in front of the Old Market Hall, where you can enjoy an amazing street food offer on Sundays. Enter a world of flavours and aromas and discover our selection of savoury and sweet dishes from multiple vendors.
If you love classical music, you certainly can't wait for the Bratislava Music Festival. Their 58th edition brings big names to Bratislava again, you can look forward to top domestic and foreign philharmonic orchestras, orchestras and performers.
Chico & The Gypsies are coming to Pezinok! Come and listen to a concert full of hits of the legendary band in the courtyard of the 13th century castle in Pezinok. Chico & the Gypsies is a French rumba catalana, flamenco and latino pop and rock musical formation led by Jahloul Chico Bouchikhi, who was the founder of the Gipsy Kings. After leaving the Gipsy Kings due to differences with the band, Bouchikhi formed CHICO & THE GYPSIES in 1992. There are always 11 world class musicians on stage. You can look forward to hits by BAMBOLEO, VOLARE, DJOBI DJOBA, A MI MANERA, as well as the latest recordings.
Come and relax with us while painting ceramics in a beautiful environment in Bratislava in Rača in the Municipal Garden. You don't have to sit in a dark room when the weather is beautiful outside. Come and paint your ceramics with ceramic glazes in an inspiring environment. You will relax and create an original piece for your home or a gift for a loved one. The price of 25 euros includes one product, ceramic glazes, tools, firing in the ceramic kiln, expert guidance and small refreshments.
The first cocktail festival in Bratislava Liquid Market will bring two days of craft cocktail culture. All drinks, cocktails and tastings are included in the ticket price. Liquid Market has been taking place in Vienna since 2016 and it was only a matter of time before it came to Bratislava. The cocktail culture will be experienced live over two days with bars from all over the country. Foreign establishments from Austria, the Netherlands, the Czech Republic, Bulgaria and many other countries will also make guest appearances. You can look forward to well-known and newer brands of spirits that will present their specialties. In addition to exclusive original cocktails, you can look forward to tastings, lectures and masterclasses. There will be music and tasty streetfood. Liquid Market is the contemporary version of an all-round bar and spirits festival for all connoisseurs.
The SND Opera will officially open the new theatre season with an extraordinary gala concert in honour of the world opera legend Lucie Popp under the title LUCIA POPP TRIBUTE. Slovak and Czech opera stars Simona Šaturová, Jana Kurucová, Adriana Kučerová, Slávka Zámečníková, Kateřina Kněžíková, Eva Hornyáková, Pavol Remenár, Michal Onufer and others have accepted the invitation to perform, conducted by Tomáš Netopil. The programme of the concert consists of arias, scenes and songs by Wolfgang Amadeus Mozart and Richard Strauss. The gala concert will be accompanied by an exhibition dedicated to Lucia Popp in the foyer of the Opera and Ballet.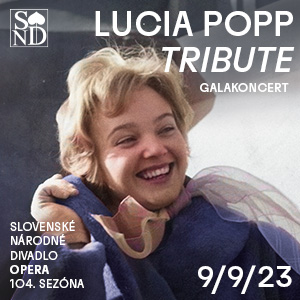 After April's Good Market, which showed the joy of face-to-face meetings, we can look forward to its autumn edition. On September 23, Virgin Street will once again belong to market vendors, neighbors, artists and visitors, quality local products, artisans and diverse cultures. There will also be a Children's Good Market and many experiences throughout the day. The main theme of the fall edition is Renewal. You can look forward to tastings of unusual foods, music, dance or various workshops. The Climate Needs You initiative will again bring discussions and workshops that will bring the climate challenges and their possible solutions closer.
Smejko, Tanculienka and Huncúlik in the new show Zaber a makaj! decide to do something for their health. And so all three of them agree to start exercising honestly. All three of them… except Smejko. Both the dancer and Huncúlik wake up Smejk with the wake-up song Good Morning and the well-known Hey Rup, Let's Go! But then they find out that Smejko has fattened up. He just wants to eat and eat, for example with the song Yummy Yummy. He doesn't want to exercise for the world either, because Lemra the sloth has snuggled up next to him. He would most like to sleep on the stove like Pecival. How will it turn out? Join the fans of sport and exercise!
FRAGILE brings a fantastic musical project – Fragile Queen. Bohemian Rhapsody, The Show Must Go On, We Will Rock You, Bicycle Race and many more, complemented by the sound of a rock band performed by top musicians: M.Valihora, M. Bugala, R.Kaník, E. Vizváry, J. Zaujec, J. Griglák. Experience the greatest hits of the band QUEEN live together with an unforgettable atmosphere in the open-air courtyard of Šimák Zámok Pezinok.
Photo: Bratislava Castle from @matejkovac_photo
Find all tips for the THINGS TO DO IN BRATISLAVA.
---