Farmers' markets have been a phenomenon in recent years and their popularity does not seem to be waning in any way. At farmers' markets, customers are offered products that are hard to find in regular shops. They are attractive because they are of high quality and hark back to the time of our great-grandmothers, who used only home-grown and purely natural ingredients for their recipes.
Why shop at farmers' markets in the first place?
There are several good reasons to visit farmers' markets. The first and foremost is the opportunity to buy fresh food, fruit and vegetables, cold cuts… Farmers' markets are simply a place where customers expect quality and, last but not least, the local origin of the goods they buy. In the case of fruit and vegetables, this specifically means fruit and vegetables with a minimum of synthetic fertilisers and other chemicals, etc.
Farmers' markets thus spread a positive relationship with the environment. In a natural way, they teach people how to live economically and still offer them quality raw materials to buy. While this is not the rule, many vendors at farmers' markets try to keep the use of single-use plastic packaging to a minimum. If you want to visit one of Prague's farmers' markets and to live an ecological and sustainable life, try bringing your own packaging. Our environment and the planet will thank you and you will fit right in at the farmers' market.
So which farmers' markets you should not miss in Prague?
1. Farmers' market in the Holešovice Market Hall
2. Farmer's market in Ládví
3. Heřmaňák Farmers' Market
4. Farmers' market at Rajská zahrada
5. Toulcův dvůr Biomarket
6. Farmers' Market at Chodov
7. Farmers' market at Hájích
8. Farmers' Market on Náplavka
9. Farmers' market in Karlín
10. Farmers' market in Anděl
1. Farmers' market in the Holešovice Market Hall
One of the most well stocked and well-known Prague markets with a long and rich history, which have survived to this day, is the Holešovice Market. You can find it in the famous Holešovice Market Hall. In a seemingly ordinary, but very spacious hall, you will immediately see a wide range of products from more than fifty farmers.
Here you can buy fresh fruit and vegetables that stimulate the taste buds and encourage you to cook something delicious. There are also cheeses of various types, homemade lemonades, syrups and jams, and fresh fish. In short, you will find all the products you expect at a farmers' market. In addition to food, you can also find other products such as seasonal seedlings, etc.
2. Farmer's market in Ládví
The list of farmers' markets in Prague is quite extensive, among the most popular ones with a rich offer of quality ingredients are those near the metro station Ládví on line C. You can buy here a lot of interesting products. Apart from the obligatory fruit and vegetables, you can find here dried fruits, home-made pastries, fresh herbs, fish, meat and home-made cold cuts, eggs, dairy products, honey, or the popular frgals, which are filled with various flavours.
In addition to food, handicrafts, such as wicker, and other complementary goods are sold here. Good transport links, the quality of the goods on offer and the wide range of products on offer make the Ladvi Farmers' Market a popular destination for those who like to shop at farmer's markets.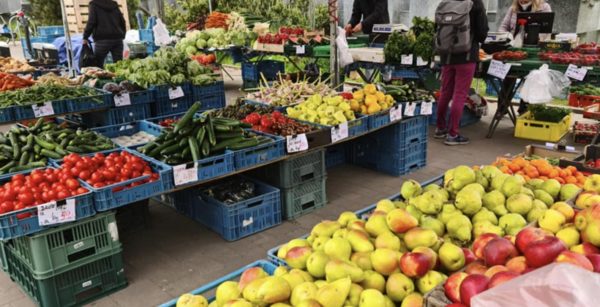 3. Heřmaňák Farmers' Market
It has already been mentioned that the spirit of farmers' markets is intrinsically linked to the ideas of ecological and sustainable behaviour of vendors and customers. Some of the Prague markets emphasise this idea and have a particular ecological focus. Such markets, for example, encourage sales without plastic bags and plastic cups, which otherwise pollute and burden our environment enormously.
One such market is the Heřmaňák Farmers' Market held on Řezáč Square in Prague 7, near the Vltavská metro station. The sale of plastics is taboo here. On the contrary, the possibility to fill your own containers with homemade juice or lemonade, to take your own fruit or vegetables in your own bags and packaging, etc. is encouraged. If you don't have your own packaging, there are back-up jars or keep cups. Ecology is a concept that is taken seriously here, as it definitely should be at farmers markets.
4. Farmers' market at Rajská zahrada
If you are located in the northeast area of Prague, the farmers' market at Rajská zahrada metro station is the best choice for you. Here, too, the assortment is very wide and there is nothing lacking in what makes farmers' markets unique: fruit, vegetables, homemade pastries, jams, spices… But the farmers' market at Rajská zahrada also prides itself on homemade sausages from local butcher.
According to many, you wouldn't find such good sausages anywhere else. The Rajská zahrada market is famous for selling these sausage delicacies. Cheese is also popular here.
5. Toulcův dvůr Biomarket
Toulcův dvůr in Prague's Hostivař is a centre of ecological education and the place where farmers' markets are regularly held. Customers can only buy here products that are certified organic. They are offered by small local farmers.
The market focuses not only on selling products but also on educating visitors about healthy eating and organic farming.

6. Farmers' Market at Chodov
The historic building in Chodov hosts, among many other social and cultural events, a farmers' markets. Once again you can find here a wide range of products from small local farmers. There are fruits, vegetables, herbs, regional specialties, as well as quality sausages and dairy products or homemade bread and other baked goods for sale.
Even in the middle of the South Town, Prague's largest housing estate, there are markets where you can find organic food with all the advantages and positives associated with healthy eating and sustainable and organic farming.
7. Farmers' market at Hájích
The farmers' market at the end of the C metro line is well known and popular thanks to its offer of regional specialties not only from our country, but also from Slovakia. Examples include Třeboň carp or Slovak cheese, as well as Wallachian frogs, meat, etc.
The food offer is of course complemented by traditional handicraft products such as baskets, wooden utensils and toys, etc. In Hájích, farmers' markets are held more on weekdays.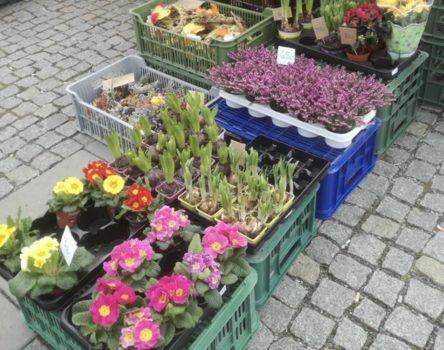 8. Farmers' Market on Náplavka
This Prague classic is not just about walking along the Vltava River, but also about shopping for quality food produced through organic farming. In addition, you can find original handicrafts, natural cosmetics and many other similar products here.
A visit to the farmers' market on Náplavka, one of the oldest in Prague, can be successfully combined with a family weekend trip. The market is always held on Saturdays from early morning until early afternoon.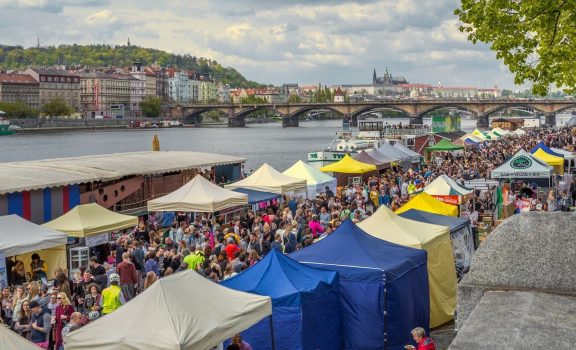 9. Farmers' market in Karlín
Karlín is a district that has been undergoing rapid development in recent years and the farmers' markets fit in very well with its atmosphere. The Karlín Market – as these farmers' markets are officially called – is a meeting point for locals and visitors to Karlín.
In addition to the classic assortment of fruit and vegetables, fresh home-made pastries, cakes, meat and sausages or cheese, the Karlín Farmers' Market also has an accompanying programme for children and is well worth a visit with the whole family.
10. Farmers' market in Anděl
The area around Anděl metro station is one of the busiest in Prague. There are a lot of shopping opportunities in this part of Prague. And we have to mention of course the regular farmers' markets, which take place every Friday throughout the day. The local honest fresh baked goods are famous and are definitely worth a visit.
If you decide to go to a farmers' market, remember that markets have their seasonal offers, and in addition to checking the days and times they operate, adjust your expectations accordingly. Of course, some markets do operate through the winter, but perhaps only for a very short time, and often close early because the morning and evening frosts are not very suitable for storing food. In general, however, farmers' markets – if they really deserve their name – are the best place to shop.
Here you can find more tips on THINGS TO DO IN PRAGUE.
---