Find out where to go on a trip in Prague and its surroundings. Castles, museums, UNESCO sites and tours will ensure you won't be bored this weekend!
1. Sea World Prague
2. DinoPark Harfa
3. Choco-Story
4. LEGO Museum
5. Kunraticky Forest
6. Karlstejn Castle
7. Plzeňský Prazdroj
8. Sedlec ossuary
9. Český Krumlov
10. Terezín Memorial
1. Sea World Prague
Sea World Prague is the largest marine aquarium in the Czech Republic. In this aquatic zoo, which has been operating since 2002, you will find more than 260,000 litres of water in 50 aquariums. In addition to exotic and colourful fish species, you will also find water turtles and even sharks! As part of your visit, you can also take a walk through the 25-metre-long coral water cave, or check out the terrarium with its interesting frog species and chameleon. The unique exhibitions here are even complemented by floor projections and floor effects, which add a mystical atmosphere to this underwater world. The Sea World Zoo can be found right in Prague, at the Exhibition Grounds in Holešovice, making this a pleasant afternoon visit.
2. DinoPark Harfa
DinoPark Harfa is a great place for families with children. On the roof of the Harfa shopping centre, you and your kids will see life-size models of dinosaurs, decorations of Mesozoic nature, as well as a 4D cinema. If you have a little big reptile enthusiast at home, he or she will surely find something to learn here at DinoPark. DinoPark is located in Prague 9 and can be easily reached by metro, bus, tram or car. Come and see ancient history!
3. Choco-Story
Choco-Story is the sweetest museum in Prague, which has been operating in our city since 2018. In this museum, you will learn the entire 3,000-year-old history of cocoa and chocolate, as well as the ancient customs of the Aztecs and Mayans. You will travel through history following the footsteps of this dessert and discover its impact on our society today. But at Choco-Story, you won't just learn about chocolate, you'll also taste it! As part of the tour, you can taste 3 types of chocolate for free, and have your photo taken with your favourite celebrity in the wax museum with chocolate in hand. And the best part – you will find Choco-Story right in the heart of Prague, just 2 minutes from Old Town Square and Orloi.
4. LEGO Museum
The LEGO Museum in Prague is the largest private museum of its kind in the world. It was founded by Miloš Křeček, the largest collector of LEGO bricks, and today houses 3,000 unique models built from more than 1,000,000 LEGO bricks. The museum even pays tribute to Prague with its models of city landmarks such as the Charles Bridge, the National Theatre, the Old Town Clock and the National Museum. Children and adults alike can build anything they can think of. Just come to the museum on Národní třída during opening hours.
5. Kunratice Forest
Kunraticky Forest is a forest right in Prague. Its history is connected with King Wenceslas IV, who bought the Kunratice forest in 1407. Once a hunting forest, today it serves as an island of peace in the hustle and bustle of the city. Here you will find several marked hiking and cycling trails, and your walk through the forest will be intersected by various playgrounds, gazebos, a picnic area, as well as a nature trail with a forestry theme. If you are looking for a nature walk but don't want to leave the city, then Kunratický les in Prague 4 is the right place for you.
6. Karlštejn Castle
Karlštejn is a medieval royal castle, which was founded around 1348 as the private representative residence of the Roman Emperor and Czech King Charles IV. The tour of this monument can consist of up to seven tours, some of which are accessible even in winter. At Karlštejn, you can walk through the historic interiors of the Imperial Palace and the lower floors of the Marian Tower with valuable furnishings from the 14th-19th centuries, and you will also see a replica of the Czech St. Wenceslas Crown. Karlštejn can be reached from Prague by car or by train. The journey by car will take at most three-quarters of an hour, which is why this castle is an ideal place for a day trip for all history enthusiasts.
7. Plzeňský Prazdroj
Plzeňský Prazdroj is the brewery where the now world-famous Pilsner Urquell was born in 1842. A tour of this brewery promises a glimpse into the historic cellars, where the drink is still produced using the traditional method, and the bottling plant, where more than 120,000 bottles are filled per hour. The tour also includes a tasting of unfiltered and unpasteurized Pilsner Urquell beer drawn directly from oak lager barrels in the historic cellars. The brewery is located in Pilsen, just 90 kilometers from the center of Prague. It is an ideal place for a day trip for all lovers of this drink.
8. Sedlec ossuary
The Sedlec ossuary is the world-famous underground chapel of the cemetery church of All Saints, where you can see the exhumed bones from the cemetery, which were deposited in the church in Baroque-Gothic style as a decoration of bones and accessories. The decoration of the underground chapel is thus made up of bones and skulls that have been disinfected and bleached with chlor lime. The ossuary thus provides a unique view of the combination of beauty and the transience of life. This unique view is located just 70 kilometers from Prague, near Kutná Hora.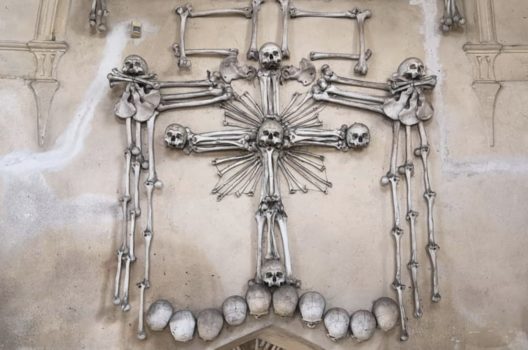 9. Český Krumlov
Český Krumlov has been a UNESCO World Heritage Site since 1992 thanks to its long history, which has directly influenced its current historical appearance. In Český Krumlov you will find the second largest castle complex in the Czech Republic, the Renaissance historical town hall from the 16th century, a Jesuit college, a fountain with a plague column, churches, synagogues, monasteries and also the Eggenberg brewery. In just 2 hours on the motorway from Prague you will discover a more picturesque version of the urban feudal history of the Czech Republic.
10. Terezín Memorial
The Terezín Memorial is a place that can be visited by those who are not afraid of the sad history and would like to learn more. Terezín is a World War II concentration camp that consisted of two parts – the Gestapo prison and the Jewish ghetto. During a tour of this memorial, you will have the opportunity to see both parts depending on your choice of tour. During 6 to 7 hours you can visit both parts of the museum, see the Magdeburg Barracks and watch an informative film. If you are interested in Terezín, you will find this memorial less than 65 km from Prague.
Discover with us the best tips on THINGS TO DO IN PRAGUE.
---