In summer, there is nothing better than spending a day at the swimming pool or lake. We have selected the types of swimming pools that are unique in their atmosphere, healing water, services or attractions that you will not find anywhere else in Slovakia and whose visit will make your hot summer day much more enjoyable.
1. Wakelake
2. Slnečné jazerá
3. Draždiak
4. X- Bionic Centre
5. Delfin swimming area
6. Rosnička swimming area
7. Matadorka
8. Aquapark Senec
1. Wakelake
Do you want to experience a bit more adrenaline, enjoy summer sports, great parties and tasty food? Then Wakelake sounds like the place for you! You can enjoy Bratislava's first Wake Skate Surf, Flyboard and Standup Paddle, or having fun on sunset yoga, tabata, dancehall, outdoor gym and beach volleyball. Wakelake is also the perfect chilling spot in Bratislava. So grab your friends and have fun. What more could one ask for? Oh, maybe the 300 m2 terrace and good vibes.
2. Slnečné jazerá
Definitely must go summer location near Bratislava! Clean water, a lot of activities, bars and restaurant, all in one place. From time to time there is also a big music event, definitely worth trying. Sometimes it's get crowded bud don't worry you can always find your own little corner for a chilling on a beach towel. Also, suitable for families as there are many children facilities. As it is an official swimming area, you have to pay a small entrance fee.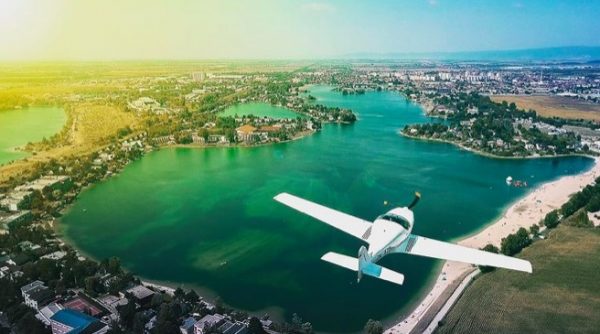 3. Draždiak
If you prefer fewer people or don't want to pay the entrance fee, because you just want to go for after-work swim, visit Dráždiak lake in Petržalka. And even thou Draždiak is not an official swimming area, you can be sure you'll find buffets, water bikes and paddleboard rental and water is also pretty clean. For this season, it is not prohibited to swim in the water, but as with every unofficial swimming area make sure the water was approved as safe for swimming. But from our personal experience, Draždiak lake is usually clean. Last but not least Drazdiak lake has a very special atmosphere because it is located in Slovakia's biggest city district Petržalka with very special post socialistic architecture.
4. X- Bionic Centre
X- Bionic Centre is definitely the first choice for those who prefer various sports facilities at the highest standard. Even thou, it is a little bit further from Bratislava, it is definitely worth it. X Bionic is a newly built resort – the world of sports, relax and innovation. You can look forward to a 50m outdoor Olympic swimming pool, recreational swimming pool with different attractions, like geysers, massage nozzles. You can also try the "wild river" and the children can enjoy the outdoor children's pool, 2 outdoor slides and 1 outdoor family water slide.
5. Delfin swimming area
Delfin swimming area. Located in a wider city centre it is the best for a quick after-work refreshment or swim and for me even more for having a beer with friends. There are two outdoor swimming pools and not a basic buffet. Service is ok for the price but Delfin has its own special atmosphere which makes it a very pleasant place to stay, chill and have a beer in the city centre. Cons are many children and only a few spots with the grass.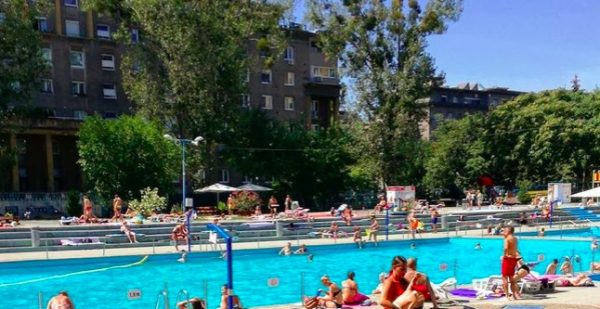 6. Rosnička swimming area
It is located in Bratislava district Dubravka and probably the most beautiful pool area in Bratislava. Greenness is everywhere you look. Not only you can enjoy a nice dip in the water, but also the feeling of being in the middle of nature, looking at all the trees around you and enjoying walking around on the grass. Gastro facilities are ordinary but you won´t be disappointed. The only problem during weekends might be overcrowdedness.
7. Matadorka
Another notorious swimming pool located in Bratislava district Petržalka. It offers one 50 meters long swimming pool and one small pool for kids with a water slide. You can enjoy your time laying down on your towel on the nice grass area, have some refreshments at the pool buffet, enjoy summer bar, free WiFi, free parking for visitors, beach volleyball, trampoline for children and beach chairs so you can relax in the middle of Petržalka district. The entrance is 5 Euro for the whole day. If you are a good swimmer and your goal is to swim instead of getting tanned, Matadorka because of its big and deep swimming pool is your best/only choice.
8. Aquapark Senec
If you are in Bratislava and searching for a whole day fun for you and your kinds you will probably really like the Aquapark Senec. You can find here everything you can think of when it comes to swimming and water entertainment. It is a closed aquapark to Bratislava and it's part of a wider summer area near the lake in the city of Senec. There are 12 various pools, wellness, saunas and whirlpools. Definitely, first choice if you are staying in Bratislava and you don´t want to go too far for water fun.
Bonus
If you like to be naked when swimming or lying on the beach there are two options in Bratislava. The east side of Zlate Piesky lake, near to mentioned Wakelake or east side of Rusovce Lake. I have never been there so I can´t provide any more useful information bud I am pretty sure there are none gastro facilities so you have to bring your own cold beer.
We hope you find your perfect spot and enjoy the last days of summer!
Find all tips for WHERE TO GO IN BRATISLAVA.
---