What could be a more exhilarating summer cultural experience than nature, great movies and meeting friends in one of Budapest's magical locations under the stars?

1. Budapest Rooftop cinema
2. Budapest Garden Outdoor Cinema
3. Wonder Garden Outdoor Cinema
4. Lupa drive-in
5. Fellini Beach Cinema
6. Esernyős Outdoor Cinema
7. Mad Open-Air Cinema
8. Garden cinema in Nyúl utca
9. City Hall Outdoor Cinema
10. Hunyadi Square garden cinema
11. Flower Benedict House
1. Budapest Rooftop Cinema
The Budapest Rooftop Cinema (BRC) has been hosting weekly open-air screenings since spring 2013 – initially on the rooftop terrace of the Corvin Club, last year at Corvin Plaza and this year on the rooftop terrace of Mammut. Their aim is to organize screenings that not only provide regular recreation, but also a special, communal film experience that pulls film lovers out of their busy summer weekdays – right over the city.
2. Budapest Garden Outdoor Cinema
Every week from Wednesday to Saturday all summer long, you can watch free movies in the open air! Screenings usually start at 21:00 and no advance booking is necessary. The films are shown with Hungarian dubbing and without subtitles. Some films are in the original language with Hungarian subtitles. The Garden Cinema is located on the sandy area of Garden Beach, so be prepared in terms of attire.
3. Wonder Garden Outdoor Cinema
Visit one of Budapest's most frequented restaurant groups in the heart of Margaret Island, Gasztro Sétány, and discover the Wonder Garden Garden Cinema, ideal for a family or romantic movie night. And thanks to the varied menu on offer at Gasztro Sétány, everyone is sure to find a dinner to suit them.
4. Lupa drive-in
The Lupa Drive-in cinema is an attempt to recreate the heyday of the genre in the 1960s in America, projecting great classics and true favourites on a 60 m2 screen, day after day, night after night, in the large Lupa car park.
5. Fellini Beach Cinema
Cinema on the banks of the Danube, need we say more? Film screenings start at 21:15 every Wednesday evening and end depending on the length of the films. Arrive early so you can settle comfortably on the beach. As it can be cooler on the beach, you may want to bring a sweater.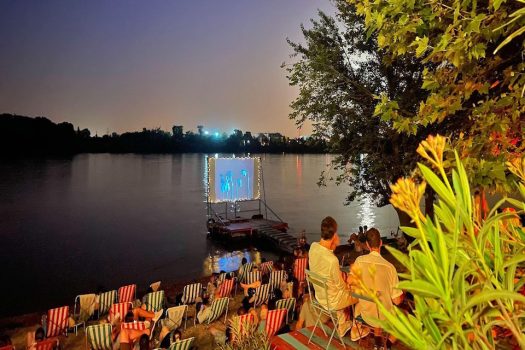 6. Esernyős Outdoor Cinema
ESERNYŐS is a community space, café, program venue and contemporary gallery all in one, on Main Square. A pleasant summer evening, with good and better films, smiling faces, umbrellas… A really cozy place to watch lesser-known films, usually with Hungarian subtitles.
7. Mad Open-Air Cinema
The Mad Scientist is a small brewery where, although the film screenings are not constant, it's worth keeping an eye on them. Screenings are of course free for MAD KERT guests, with tables and chairs available on a first-come, first-served basis. Films are screened from 9 pm on the big screen outside, under the stars, and of course, if you're there, don't miss having a beer. Have fun!
8. Garden cinema in Nyúl utca
Tucked away in the trees of a rambling garden just off Széll Kálmán Square, this wonder is in the city, yet far from the hustle and bustle. Film screenings always start after dark, but it's worth arriving before meeting the other viewers. Attendance is free. There's no buffet, so if you want to, you can bring snacks, cookies and drinks and share it with each other, but this is not a condition of participation. There are benches, cushions and blankets in the garden, but if you want to be sure, bring a blanket.
9. City Hall Outdoor Cinema
Last summer, the Városmajor outdoor cinema opened its doors to all film lovers and joined Budapest Film's initiative to revive the capital's garden cinema culture. The Városmajori outdoor cinema will open its doors again this year and will screen a series of legendary films, both domestic and foreign, throughout the summer season.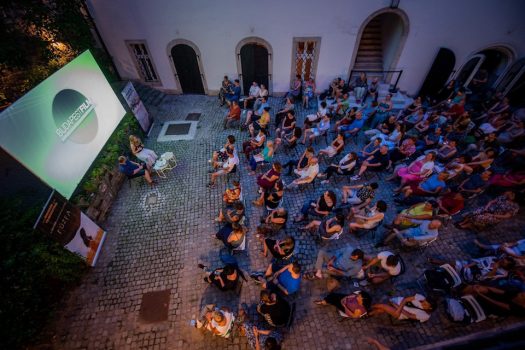 10. Hunyadi Square Garden Cinema
Also as part of the Budapest Garden Cinema, screenings will take place on Hunyadi Square. Budapest Film, in cooperation with the local municipality and the Eötvös 10 Community and Cultural Theatre, will screen art and popular films for the residents of the district on Saturdays every week in the cozy green square of Terézváros.
11. Virág Benedek House
On Tuesdays in July and August, in the shade of a large walnut tree in the courtyard of the Benedek Virág House, film fans can enjoy the best of the best. Some of the films will be preceded by talks, and you can also visit the renovated house and its permanent exhibition for a HUF 1,000 ticket (or HUF 500 for district residents).
Find all tips for the BEST THINGS TO DO IN BUDAPEST.
---