Top 10 things to do in Kraków in September 2023. From art exhibitions to outdoor festivals, we've got you covered with the best events and things to do in Kraków in September 2023. Enjoy!
1. Kraków Honey Harvest)
2. Kraków Golden concerts
3. Art and Food Bazaar
4. The Copernican Procession
5. States of Mind Festival & Pura Vida Festival
6. Cracovia Music Festival
7. Koncerty uniwersyteckie Filharmonii Krakowskiej
8. Retro Kogel Mogel Fair – Autumn Edition
9. Capella Cracoviensis: K6T
10. Kraków's ZOO
1. Kraków Honey Harvest
Dates: 08.09.23 – 10.09.23
Address: Wolnica Square
One of the sweetest events of the year is coming soon! We'll discover the secrets of beekeeping during this 30th Kraków Honey Harvest. Between 8 and 10 September (9am-7pm), the Wolnica Square hosts producers of delicious honeys and other apiary products. For visitors it's a great opportunity to buy rare honeys, pollen and healthy food. The program of the event is diverse and aimed at all age groups. From very young children to the oldest among us, there's something for everyone! An integral part of the event, as every year, will be the Bee Parade. Children and adults dressed in beekeeping costumes and with bee motifs will present themselves on the Main Square. Admission is free.
2. Kraków Golden concerts
Dates: 23.09.23, 19:00
Address: Pod Baranami Palace, Rynek Główny 27
Krakow Golden Concerts invites you to a unique musical experience in the heart of Krakow! During the concerts you will hear world-famous hits of film and series music arranged for a string quartet. The concerts will be held in the baroque ballrooms of Pod Baranami Palace, therefore you'll be able to enjoy an amazing view of the Main Square. Moreover, a complimentary glass of wine or a non-alcoholic drink will be prepared for all guests.
3. Art and Food Bazaar
Dates: 10.09.23, 11:00 – 17:00.
Address: Stary Kleparz, Rynek Kleparski 20
Art & Food Bazaar is a very beloved cyclical, monthly event bringing together artists, designers (local and otherwise) and cooks, both professional and amateur. It's famous for its lovely atmosphere & delicious food! At the Art & Food Bazaar you will try the best-quality food from local producers who will be waiting for you with their delicious snacks.
4. The Copernican Procession
Date: 09.09.23
Address: Brama Florianska, ul. Floriańska
Krakow celebrates the 550th anniversary of Mikołaj's Copernicus birth and the entry of the Old Town on the UNESCO World Heritage List. On this occasion, there will be a colorful outdoor theater show full of dance, music, acrobatics and astronomy. The course of the parade route: Florianska Gate – Floriańska Street – Main Market Square – Town Hall on the Main Market Square.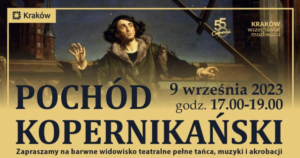 5. States of Mind Festival & Pura Vida Festival
Data: 16.09.23 – 17.09.23
Adres: ul. Focha 40, Hala Cracovia
States of Mind Festival and Pura Vida Festival invite you to have fun spending the end of summer together! Dozens of unique handmade brands and good designs will be waiting for you in Hala Cracovia during the weekend. This is a great opportunity to meet the creators of your favorite brands, get to know new Polish brands that you may not yet have encountered: producers of colorful ceramics, eco cosmetics, clothing, eco accessories, candles, yoga mats, herbs, teas, decorations, jewelry and much more. Admission to the event is free of charge.
6. Cracovia Music Festival
Dates: 29.09.23- 30.09.23
Address: The Church of św. Piora i Pawła, Manggha museum
This music festival aims to create a space for meeting different musical cultures and building new cultural and social contacts. It is not a competition, but a free presentation of different styles and genres of music. Therefore, there are no winners and losers here, just a demonstration of joy and high artistic merit that counts. During the Cracovia Music Festival, our city hosts amateur choirs and orchestras from all over Europe. This year, nine teams from the Czech Republic, Sweden, Lithuania, Latvia, Italy and others will come to Krakow. The admission is free!
7. University concerts of the Krakow Philharmonic
Dates: 14.09.23 – 16.05.24
Address: Jagiellonian University Collegium Novum, ul. Gołębia 24
Musical meetings in the neo-Gothic interiors of the halls of the Jagiellonian University have been combining chamber music performed by artists of the Krakow Philharmonic with lectures by professors of various specialties for over 20 years. This artistic season will bring musical meetings, among others: with string quartets by Szymanowski and Noskowski, songs by Baird, Twardowski and Szymanowski, piano quartets by Mozart and Schumann, sonatas for flute and piano by Muczyński and Woytowicz, and string sextets by Strauss and Schoenberg.
8. Kogel Mogel – Vintage Fair (Autumn Edition)
Dates: 10.09.23, 12:00 – 18:00
Address: HEVRE club, Meiselsa 18
All vintage and retro lovers – Kogel Mogel Fair is the event for you! The event will be held at HEVRE club, which will be transformed by the spirit of bygone decades. The best exhibitors from all over Poland are invited for this occasion. No doubt, everyone will be able to find something special for themselves! A lot of unique items, from colorful dresses to vintage accessories, will be waiting for a second life. The entrance is free!
9. Capella Cracoviensis: K6T
Dates: 24.08.23 – 09.10.23
Address: Kościół św. św. Katarzyny i Małgorzaty, ul. Augustiańska 7
Over the years, Capella Cracoviensis became an independent entity performing various compositions, ranging from Medieval music to world premieres of contemporary pieces. This year's theme is Mass. How did it change from Lassus to Mozart? How did the outstanding representatives of subsequent generations of composers perceive it: Monteverdi, Biber, Bach?
10. Kraków Zoo
Address: aleja Kasy Oszczędności Miasta Krakowa 14.
A visit to Kraków's ZOO is always a good idea! It is open every day from 09:00 until 18:00. Kraków's Zoo covers an area of 20 hectares and is inhabited by about 270 species of animals including Rothschild's giraffe, pygmy hippo, little panda, snow leopard, Amur tiger, chimpanzee, Indian elephant, Humboldt penguin and many others. So it's worth spending more than an hour here! It is located in the Wolski Forest, a beautiful forest park where you can walk around after visiting the zoo and spend even more time enjoying the beautiful nature!
Photo:@krakowcityguide
Find all tips for the best THINGS TO DO IN KRAKOW.
---