What is happening this November in Stockholm? Find our tips on the best events in Stockholm, things to do in November 2023. Concerts, festivals, parties, food fests, exhibitions and much more…

1. Fricky
2. The Kent Choir Autumn Concert
3. Max and Iggor Cavalera
4. Graveyard
5. Loreen
6. Yves Tumor
7. Table flea market in Bromma Blocks 
8. International Film Festival 
9. Liljeholmen tailgate flea market
10. Comic Con
On November 26, Slaktkyrkan will be visited by the outstanding Fricky! His music took Sweden's music screens by storm with his very unique debut that earned him tons of awards and more than 100 million streams. His concerts have become one of the most recommended to visit. Together with The Desktoppers, you can be sure that this live performance is something you don't want to miss.
Choral singing will take place in November at the Filadelfia Convention Center. The choir consists of 100 strong and melodic voices and all are ready to delight your souls, minds and ears with their autumnal compositions and songs. On November 11, you can enjoy this masterful choral concert at 20:00.
Max and Iggor Cavalera – or better known by their band name – Morbid Devastation – are touring the world and of course they will come to Stockholm as well. Metal and Scandinavia go together like bread and butter and therefore it is our pleasure to welcome these Brazilian brothers to the cold north for their first ever live show in Sweden. Debaser covers your metal needs on November 22!
If you're familiar with the Swedish rock scene, you've probably heard of Graveyard. During November 17 they are touring in Sweden and Denmark and they are of course coming to Stockholm as well – Södra Teatern will offer the perfect venue for this unique live performance by Sweden's young but powerful rock band that has already released 5 albums and a new one is already on the way!
Ever since her debut album "Heal", Loreen has been known to combine mysterious and unusual motifs in her work – perhaps a secret recipe for winning Eurovision 2x! Welcome to her world of dark, dramatic but charming music and songs that will capture your heart and mind. You should not miss this unique live performance on November 23 at Cirkus!
Combining culture and contemporary art is what Yves Tumor is known for. Add the sweet melodic combination of electronic music, rock and psychedelic music and you have a mix that is well worth your time and listening to it live. Slaktkyrkan is here to provide this experience on November 11 so grab your tickets while they are still available.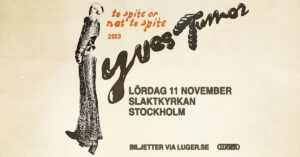 Everybody loves a good flea market. Bromma Blocks welcomes you to their very special autumnal flea market filled with lots of treasures and goodies. Bring your family along for shopping spree on 4th, 11th and 18th November.
The International Film Festival will be shown in several cinemas in Stockholm. You can find all the programs on their official website. All fans of cinema and independent creators can look forward to different genres – whether thriller or comedy, American or Korean, everyone will get a dose of the great international films. The festival starts on November 8 and runs until November 19.
Another flea market, another opportunity to find secrets and hidden gems that others do not need anymore. Liljemolmstorget Galleria welcomes all fans of second hand fashion. Come and take a look at the wide selection of various goods. The flea market opens on 12th November on 11:00.

Another year, another dose of the popular nerd fair Comic Con! Cosplays, movies, fanarts, celebrity autographs, small shops with everything you need. Live performances and so much more await all fans of comics, anime, movies and games from November 3 to 5 at Stockholmsmässan.
Photo: Drottningholm Palace from @Priscilla Burcher
Find all tips for the best THINGS TO DO IN STOCKHOLM.
---