It's true once you have been to Rome, the Eternal City will always have a special place in your heart. As you venture into its alluring alleyways and take in its romantic atmosphere you come to realize there is so much more to this vast city of culture, legendary monuments and laidback locals.

1. Meet a Gladiator at the Colosseum
2. Make a Wish at the Trevi Fountain
3. Visit the Vatican Museums and Sistine Chapel at Night
4. Stroll Through the Medieval Quarter of Trastevere
5. Aperitivo in Piazza Navona
6. Shop World Renowned Italian Brands
7. Go Local With a Food Tour or Cooking Class
8. See Bernini's Masterpiece at Galleria Borghese
9. Visit Churches Filled with Jaw Dropping Art
10. Picnic in the Green Spaces
This engineering astonishment is the site of many gruesome and bloody gladiatorial fights. It was opened in 80 AD and could hold approximately 50 thousand spectators! Visitors can't help but marvel at the iconic symbol of Rome with its three stories of arched entrances supported columns. The ancient Roman amphitheater was where the Roman public – poor, rich, the emperor himself – could watch gladiatorial combats and other forms of entertainment, including wild animals that were on show as either clever circus acts trained to perform tricks or doomed for death in the arena's games. You have not really been to Rome, if you don't have a selfie at the Colosseum!
Tip: Avoid the long lines at the Colosseum by purchasing a ticket at the shorter lines of the Roman Forum as the ticket includes entrance to three attractions: Colosseum, Roman Forum and Palatine Hill.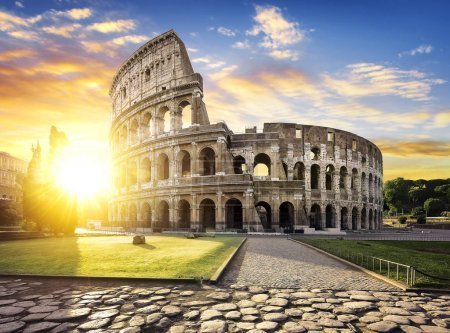 You may know of the most stunning fountain in the world from famous scenes in movies like "La Dolce Vita" and "Roman Holiday". Standing at a massive 85 feet tall and almost 65 feet wide, with water pumping out from multiple sources, astounding sculptures of Oceanus on a chariot pulled by two sea horses along with two tritons leading them, it really is an awe-inspiring structure symbolizing the Romans' control of water. No trip to Rome is complete without making a wish and throwing a coin in over your left shoulder! But first, before making a Wish at the Trevi Fountain let's clarify something. According to legend, how many coins should you throw?
1. Coin: Guarantees your return to Rome.
2. Coins: You will fall in love with an Italian.
3. Coins: You will marry an Italian.
Tip: It is a crime to steal the coins from the fountain. Putting your feet inside or swimming in the Trevi Fountain and all other fountains are prohibited. It is wise to refrain from doing so.
3. Visit the Vatican Museums and Sistine Chapel at Night
As one of the most sacred locations of Christianity, Vatican City is largely linked to the history of the religion and is a pilgrimage center for many. Being an exemplary site for Renaissance and Baroque art, St. Peter's Basilica and the museums are an art lover's dream, showcasing some of the most important collections in the world! One can not help but marvel at the intricate frescos gracefully covering the walls and ceiling where Michelangelo's brushstrokes led to his greatest masterpiece: "The Last Judgement" in the Sistine Chapel. If you wish to visit at a time with fewer crowds, the night tours make for a spectacular experience!
Tip: Security checks are conducted by the metal detector. Low cut or sleeveless clothing, shorts, miniskirts and hats are absolutely prohibited. Entrance to Vatican Museums, Sistine Chapel, St. Peter's Basilica and the Vatican Gardens is allowed only to appropriately dressed visitors!
4. Stroll Through the Medieval Quarter of Trastevere
If you are seeking a way to discover the hidden corners of Rome, Trastevere is right across the Tiber River! It is one of the prettiest neighborhoods in Rome with its colorful buildings trickling with ivy, and balconies with radiant Geraniums. This charming, hip district boasts a vibrant nightlife, trendy bars, artisan workshops, boutiques and picturesque, narrow cobblestone lanes. At night enjoy high-quality ingredients in your prized Roman dishes while sitting in cozy family restaurants paying attention to every detail and all things Italian. Or if you prefer, dine under the stars of a speakeasy or unique bars to see why everyone loves the atmosphere and energy that deems Trastevere special. In the summertime, the section of the river along Trastevere is lined with lots of live music, performances, lounges to hang out with friends and activities that make for a fun time.
Tip: Trastevere is conveniently located within a 30-minute walk from the historic center, Vatican and Colosseum. It is also easy to arrive by using public transportation like trams and buses.
5. Aperitivo in Piazza Navona
Just like the saying goes, when in Rome, do as the Romans do. In the evenings, the squares called "piazzas" fill with street performers. University students and the working class meet up for one of Italy's most honored traditions: aperitivo. Meaning to "open the appetite," an aperitivo presents the time to share with friends a pre-dinner drink that often includes a free happy hour buffet of artisanal meats, cheeses, olives, wine and other regional nibbles. With so many Hostarias (restaurants with traditional foods), cozy "enoteca" wine bars, cool spots for a cocktail, the possibilities are endless when in Piazza Navona or near the Pantheon (temple dedicated to Roman Gods) and their neighboring quarters.
Tip: An aperitivo is even more splendid on a rooftop with incredible views of the Eternal City coming alive as the sunset tints the sky with pink.
After you've people watched at Piazza del Popolo and the Spanish Steps and had your tiramisu from Pompi, wander down the fashion avenue of Rome: VIa dei Condotti. Italy simply oozes fashion, design and all things beautiful so if you are a shopaholic, you can't miss shopping in Rome. Feel pampered and relaxed as the friendly experts and stylists within the prestigious boutiques and sought after brands give the ultimate fashion experience, dressing you to perfection from head to toe. If you are looking for what makes the best gifts, you can deviate through the other pedestrian streets for attractive products like olive oil, cheese, Limoncello, leather accessories, ceramics, hand-painted paper, skillfully handcrafted jewelry and antiques.
Tip: Be aware that in most high-end boutiques, the staff is working on commission so they are likely to be a bit pushy with their sales techniques. Shoppers should not feel under pressure to make purchases immediately.
Tour with a local as you taste phenomenal dishes of Roman cuisine. For a typical snack, grab a Supplì which is a fried ball of rice, cheese and/or meat. Don't pass on the opportunity to indulge in Jewish style fried artichokes as a delicious antipasto. Savor highly popular pasta like Cacio e Pepe, Carbonara and Bucatini all'Amatriciana. Obviously, you have to bite into the thin and crispy crust of Roman-style pizza as the flavor is enhanced by the wooden oven. If you love to cook, participate in a cooking class with a Roman nonna (grandmother) for all the secrets and recipes of authentic Roman cuisine. Or maybe join a gelato-making class for all the goodness with none of the guilt!
Tip: Come prepared to have a full stomach and laughs with Italians passionate about their heritage and beloved cookery traditions.
With one of the best collections of art in the world, Galleria Borghese is actually a pleasantly uncrowded museum in Rome and not to be missed. Pick apart the layers of history in the form of art, architecture, sculptures, floor mosaics and much more. Enjoy unparalleled pieces of true craftsmanship from throughout Roman history. Take in the fascinating sensations of Caravaggio, magnificent paintings of Raphael and three of Bernini's most important sculptures! Roam through the surrounding parks and take in the view from Terrazza del Pincio.
Tip: Reservations are A MUST in order to visit. According to the museum's website and rules, reservations are obligatory. Even for free tickets such as on the Free Sunday (first Sunday of every month), for Roma Pass holders, and for children under 18 reservations are required.
9. Visit Churches Filled with Jaw Dropping Art
Rome boasts breathtaking architecture and the Eternal City has many fabulous museums holding treasures in the form of art! But so do the beguiling churches and basilicas. If you're a fan of Caravaggio, you'll want to visit the Church of "San Luigi dei Francesi". Inside this church, there are three of the Baroque artist's pieces, including the "The Calling of St. Matthew" which is one of his most prominent paintings. Another impressive church called "Santa Maria della Vittoria" is a featured chapel from Dan Brown's "Angels & Demons". Baroque art fans have the chance to gaze at Bernini's Cornaro Chapel, featuring the Ecstasy of St. Teresa statue. Many churches also have beautiful concerts with the aim of conserving melodic ancient music.
Tip: Read up on some of the churches before visiting. There is no cost for entering but always remember the dress policy for any church you enter while in Italy.
10. Picnic in the Green Spaces
Visiting the green spaces and parks in Rome is a fun way to discover what the city has to offer for relaxation, nature walks or simply reading a good book outside. Many parks in Rome are actually historic and archeological significance while highlighting various botanic species. Villa Borghese is a favorite among couples for a romantic ride in a rowboat on the lake or families with kids feeding the ducks. Another peaceful and gorgeous park is Villa Pamphili with its labyrinthine landscaping and spaces ideal for a picnic. Parco Degli Acquedotti is ideal for discovering the ancient Roman aqueducts that once supplied the city with water. If you are willing to explore off the beaten path and escape the chaos of the center, it is highly recommended to rent a bicycle and ride along one of Rome's oldest streets, the Ancient Appian Way (Via Appia Antica). Grab a bottle of Prosecco, Italian treats and make a day of it!
Tip: In order to preserve some of the open-air archeological areas of Via Appia Antica, the consumption of food is prohibited in certain areas. Look out for the signs that indicate this.

Find all tips for the best THINGS TO DO IN ROME.
---