On a terrace or on a boat, on an island or a few metres underground – in this city, you're guaranteed to find a place to go in the evening and have fun. So what makes Budapest Nightlife unique? The national and world-famous concerts, warm nights in the illuminated gardens or the unmatched atmosphere of the rum taverns. It is a mixture of different music genres, clinking of glasses and people chatting at their favourite local. Here are our 15 favourite nightlife places in Budapest.
1. Akvárium
2. Szimpla Garden 
3. Gozsdu Courtyard
4. Blue Bird Karaoke Bar
5. Pontoon
6. Mika Tivadar Bar
7. Boutiq' Bar
8. La Movida
9. Instant-Fogas
10. La Bodeguita del Medio
11. 360 Bar
12. Budapest Garden
13. Kisüzem
14. Csendes
15. Hopaholic
16. Parties
1. Akvárium
Where: Budapest, Erzsébet square 12, 1051 Hungary
A venue in the heart of Budapest characterised by sophisticated design and multifunctional spaces. The interior is divided into concert halls equipped with a unique sound system and a café situated under the pool of the club. During the summer guests can enjoy a drink on the spacious and magically lit terrace. Check it out during a jam session or attend one of their concerts.
Where: Budapest, Kazinczy street 14, 1075 Hungary
This is a must-see place. Mostly because it is not a place but a feeling. It is a breathing composition of second-hand treasures and mind-blowing decoration on two floors and 1400 square meters. Szimpla Garden justly attracts thousands of visitors. They offer concerts, markets, movie festivals, theatre and a whole lot more. Come soon to skip the long line.
Where: Budapest, Gozsdu courtyard, 1075 Hungary
Gozsdu courtyard is a passage alinged by bars and restaurants on both sides. It is a dynamic meeting spot for both locals and tourists of every generation. Head here if you want to start the night with a dinner out and wait until the tables and chairs are put away making space for some dancing and clubbing.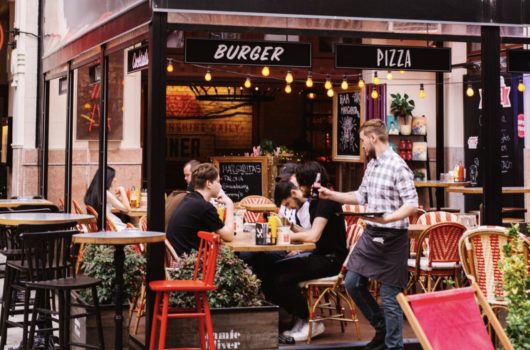 4. Blue Bird Karaoke Bar
Where: Budapest, Dob street 16 Gozsdu courtyard, 1072 Hungary
Grab the mic and get on stage. The Blue Bird bar is one of the luring places of the Gozsdu courtyard. It is hard to pass by without singing along. They have an extensive list of songs you can choose from but do arrive in time if you'd like to perform.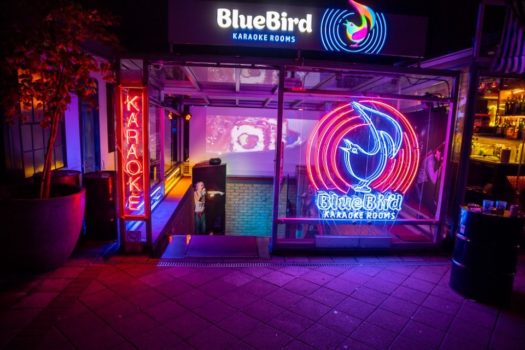 5. Pontoon
Where: 1051 Budapest, Vigadó square 1A
The place that reminds us of carefree summers. Sitting outside, enjoying the breeze of the Danube accompanied by music and cold, fizzy drinks. Originally situated at the bridgehead of the Chain Bridge, but currently on a boat due to the reconstruction of the bridge. Come here to refresh all your senses.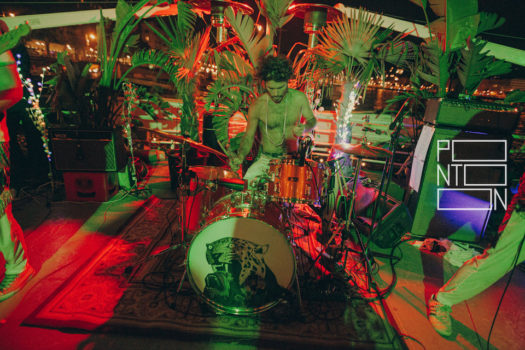 6. Mika Tivadar Bar
Where: Budapest, Kazinczy street 47, 1075 Hungary
In a renovated Art Noveau building one will find this green garden with wooden furniture and delicious lemonade. Beer on tap and other choices are available as well. Great prices and friendly staff make it feel like the "let's grab a drink" place.
Where: Budapest, Paulay Ede street 5, 1061 Hungary
An underground cocktail bar with red walls and special atmosphere. Among the great choices they have a special Raise your Spirit offer on the menu. You can order the cocktailbase of your choice for delivery or pick up at the bar. At home, you just mix the portioned ingredients, pour it on ice and voilà, your half home-made cocktail is ready.
8. La Movida
Where: 1074 Budapest, Dohány street 36.
The new South American restaurant does not only have good food, but it entertains its guest with Latin vibes and cocktails during the night. The tables and chairs are put to the side creating enough space to comfortably blend into the rhythms played by their DJ.
Where: Budapest, Akácfa street 51, 1073 Hungary
Instant-Fogas is the fusion of ruin pubs and clubbing. It is the biggest party complex in town with 18 bars in 7 separate rooms reigned by different music styles. It is a labyrinth with a tree in the middle where you'll definitely want to get lost.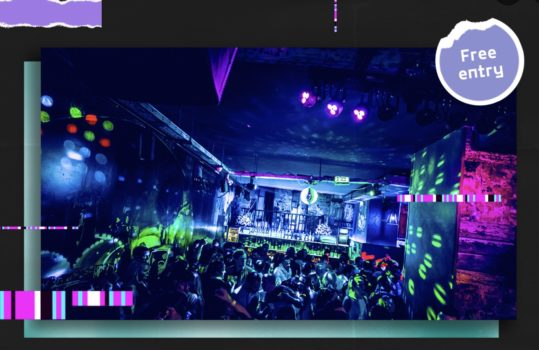 10. La Bodeguita del Medio
Where: Budapest, Dob street. 57, 1074 Hungary
When you enter this place your first question is whether you are still in Budapest or magically got transferred to the Caribbean. This Cuban restaurant is a spacious garden with palm trees in the middle and bars around. It is not only famous for its cocktails and delicious food, but also for the exotic dance shows and authentic Cuban music played by the band La Movida.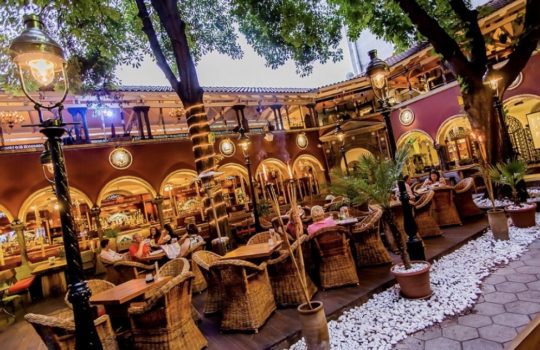 Where: Andrássy road 39., Budapest, Hungary, 1061.
If you are searching for something you have not seen yet, you should visit the igloos on a rooftop during winter in 360. They have found a solution to keep you warm while still enjoying the chilly sunset over Budapest. They offer burgers, soup, pasta, nice drinks, and of course a unique atmosphere.
12. Budapest Garden
Where: Budapest, Árpád fejedelem road 125, 1036 Hungary
Let's leave Pest a bit and hop on the other side of the river. One of the nicest places in Buda is a huge outdoor garden with wine bars, beer bars, outdoor cinema, food and entertainment. If you feel like getting together with the guys for outdoor cooking you can come here, rent their equipment, and grill your own food.
Where: 2 Kis Diofa street, Budapest, 1077
Kisüzem is a favorite bar not only of many locals but tourists alike. Frequented by artists and students looking for alternative concerts or the contemporary ruin pub feeling. Come by to taste their daily specials or just soak in the vibe.
14. Csendes
Where: Budapest, Ferenczy István street 5, 1053 Hungary
It is surreal and artsy, a composition of second-hand furniture and wall paintings. The name in Hungarian means Quiet but it is definitely not the case. It features DJ's playing funk, jazz and soul. Come in the evening when the place turns into a Bohemian cavalcade.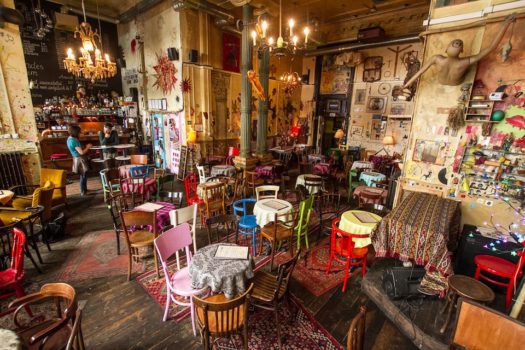 15. Hopaholic
Where: Budapest, Akácfa street 38, 1072 Hungary
A craft beer place with a wide assortment offering 10 beers on tap and more than 200 bottles of international craft beers. You feel overwhelmed by the choices? Don't worry, sample tasting is possible, and the bartenders will happily answer all your questions.
---