Street food in Bratislava. Bratislava classics. You know it. You're in Vienna, you have apple strudel, in Paris you can't miss baguettes and croissants, in Rome pizza or tiramisu, in Budapest somloi gnocchi. But what to try in Bratislava? Here are some tips on what you shouldn't miss.

1. Pierogies
2. Langos
3. Bratislava roll
4. Richman
5. Stuffed baguette
6. Fish and chips
7. Cod with breadroll
8. Street food park
1. Pierogies
Crispy, still warm, just the right amount of fat with a delicious nut, poppy seed, jam or cottage cheese filling. We're talking about pierogies, a traditional classic that has been making us happy for decades. They have been the best in Bratislava for years at Kollárovo Square, in a small window where they will sell them to you while they are still warm. You definitely have to try them.
2. Langoš
Another of the popular Slovak fastfoods. Do you like the classics – lángos with cream and cheese? Or ketchup and cheese? Or just rubbed with garlic? Or how about a taste of the innovated lángos with bryndza and bacon, or Italian ham and rocket (yes, there are those too). We really like the lángos at Koliba, where the I am lángos trailer is parked on weekends and they make fantastic fresh lángos.
3. Bratislava roll
If you are in the mood for a Prešporská classic, have a Bratislava roll, either poppy seed or walnut. Excellent homemade Bratislava rolls are baked right in the centre of Bratislava, on the corner of Ventúrská and Panská streets, in a small bakery Pressburg Bajgel. They offer other flavours, but a classic is a classic. So which one will you choose? Poppy seed or walnut?
4. Richman
Student burger or Bratislava fastfood. Students know it, even those who come back late in the evening from a party and get hungry. That's how we could describe this old Bratislava classic, richman. A grilled bun, filled with ham and cheese or chicken or Bavarian meat. But there must be grated cabbage and pickled cucumbers. You have to try it!
5. Stuffed baguette
When baguette, only baguette to Račka. There is a choice of white and wholemeal, always fresh. The fillings are varied, from the classics such as ham, cheese, or vegetables, or tuna, you can also enjoy a baguette with mushrooms, with avocado, baguette with peppers stuffed with cheese, even a baguette with asparagus spread. The very helpful saleswomen can also bake you a baguette.
6. Fish and chips
That's what we call Bratislava's "fish and chips". In the market on Trnavský mýte in the classic delicatessen you will go back in time when you have a delicious fried cod or fillet with a classic mayonnaise salad. You won't regret it! Alternatively, try the fried pike.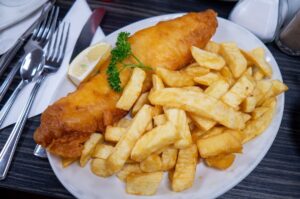 7. Cod with breadroll
We're sticking to fish – the list of what to taste in Bratislava can't be missing the classic – cod with a roll. Feel free to have ten decks of pepperoni salad or fake salmon with it. Or just enjoy the delicious cod just like that, with a fresh crusty roll. Enjoy!
Street food lovers should definitely not miss the street food park, which takes place once a month in front of the Old Market Hall. Keep an eye on our website for specific dates, we try to bring you all the top street food in Bratislava. And what can you look forward to at the street food park? Good street food, wine, beer, atmosphere, and vendors like: Párance, Chez Amelie, Vyzreté Meat, Ja somaru, Foodstock, Burger town, Raclette Republic, Bao Brothers, MumBhai Express, Take Paella and Green Leaf, and of course we won't leave out the drinks – Túlavá vinotéka, Folcik, Sódabar.
Bon appetit and cheers!

Find all tips for WHAT TO DO IN BRATISLAVA.
---